Main Content
RenewCO2: Follow-on Funding
in excess of $2.2 million
RenewCO2 has amassed federal and state funding in excess of $2.2 million. This is all non-dillutive funding (The team has will received and SBIR Phase 1 and II, and NJF STTR Phase 1 and NJEDA CSIT SBIR matching grant. They also fwere a finalist in the NASA Co2 Conversion Challenge and won the CleanTech Open Regional competition. The company was one of 100 startups to participate in the Boston location of the annual Mass Challenge Accelerator program. joining others from 21 U.S. States and 9 Countries. Learn more about the RenewCO2.
---
BioPharm America™ Digital 2020 Startup Pitch Competition Winner: Ciscovery Bio Inc.
Team Ciscovery, (now Ciscovery Bio Inc.) won first place in BioPharm America™'s Digital 2020 Startup Pitch Competition. Ciscovery Bio Inc. is a biotech startup that specializes in the discovery and commercialization of non-coding biomarkers for drug discovery and precision medicine. "We unlock the non-coding genome that takes 98% of the human genome for biomarker discovery with our genome-scale discovery tool, explains Joonyul Kim, Founder and CEO of Ciscovery Bio Inc. (Cohort 6 Entrepreneurial Lead). Our extensive collection of non-coding biomarkers allows us to comprehensively monitor drug-induced cellular changes and to better predict personal variations in drug response."
---
Smart MS3 Releases App; Begins Pilot Project
Smart MS3 CEO Akash Randhawa (Cohort 7 Entrepreneurial Lead) announced in August 2020 that the company released an app related to their product, a smart sleeve to track muscle activation in real time. The app includes a variety of features specifically designed to track patient progress and ultimately improve the results of physical therapy. Download the Apple app for free. More recently, Smart MS3 announced it is running a pilot project with a both a New Jersey and a Michigan physical therapy office.
---
Biosaf Concepts CEO Wins Women in Stem Entrepreneurship Challenge
Rose Moore (I-Corps@Rutgers Cohort 6 Entrepreneurial Lead) won first place and $5,000 in the 2020 Women in Stem Entrepreneurship Challenge, sponsored by the Association for Women in Science. Rose, a Rutgers Alumni, is the CEO of Biosaf Concepts which produces poly jackets for phone, tablets and keyboards.
Rose and Biosafe were featured in a recent American Entrepreneurship article, "Two Women Entrepreneurs Timely Launch an Anti-bacterial Product for Hospitals, Graduates of Rutgers I-Corps Program" .
---
Team Assays Participates in National I-Corps, Creates Company
Team Assays from Cohort 2 has had numerous post-I-Corps successes. In addition to incorporating, the team attended the National I-Corps Program where they completed close to 150 interviews. Founders Ethan and Adin Aoki recently shared their National I-Corps experience to current participants and guests during Cohort 7. Learn about their company and how the Assays Smartphone App can help manage complex procedures and protocols on the Inscriptures website.
---
Team Burnflex Takes 1st Place at Venture Well Open Minds Competition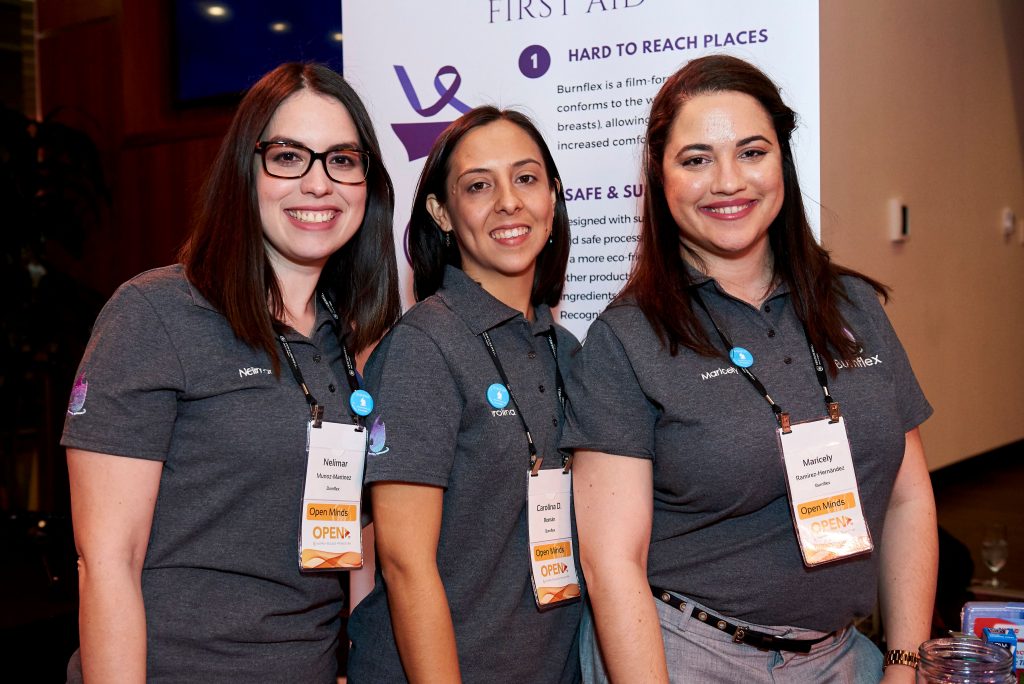 Cohort 4 Team Burnflex won the VentureWell 2019 OPEN Minds Showcase, an annual exhibition of multidisciplinary groups of students working to bring science- and technology-based inventions to market. Burnflex was awarded the top prize of $3,000 at the annual Open Conference.
Burnflex has developed a novel burn wound dressing using a film-forming foam that is portable and easy-to-apply while enabling more patient mobility, protecting against outside elements, and accelerating healing. The unique formula is currently being developed for home use.
---
Rutgers I-Corps Cohort 1 Team "Rivers Lab" Goes to National I-Corps – The team, now called VSTEP, attended the Spring 2019 National I-Corps Program to learn more about commercializing their Balance Mobility and Fitness Rehabilitation Game. Teammates Harish Damodaran (Entrepreneurial Lead); Judith Deutsch (Academic Lead) and Mentor Brad Angevine completed over 75 customer discovery interviews in just 3 weeks. By the time their cohort (held in St. Louis) ended on March 1, they had completed over 120 interviews. Read more about VSTEP.
---
New startup and NASA Challenge Winner – RenewCo2. Our cohort 2 team Co2Chem has a new name, RenewCo2, and is now an official company. Led by Entrepreneurial Lead Karin Calvinho, Academic Leads Anders Laursen, and G. Charles Dismukes, and I-Corps Mentor Beth Ann Murphy, the team developed catalysts that can convert carbon dioxide – the main cause of global warming – into plastics, fabrics, resins and other products. They were Phase 1 Winners of the NASA CO2 Conversion Challenge and received $50,000 to build a functioning system according to their submitted proposals. Read more about this exciting start-up Read more about this exciting start-up.
---
Team Solace from Cohort 4 now has a free app available for mental health. Visit mySolace.app The app provides for "anonymous group chat therapy wherever you are" – The CEO is Rutgers student Laurent Shields. Read more about Team Solace's app..
---
Cohort 5 Team Luminous recently participated in a Y-Combinator Online Startup School. Upon completion, the Entrepreneurial Lead Abu Shoeb received a certificate and $15,000, with an opportunity for $150,000 if he is accepted to the next phase. Luminous is an Integrated Marketplace for Healthcare Transactions.
---
Team Living Waters from Cohort 4 won the $10K "Social Impact" prize at the E-Fest Pitch event in Minnesota. Read more about Living Waters' prize. Living Waters is a system that captures, filters and purifies rainwater.
---
Team Aersys (Cohort 4) won preliminary round at Rutgers UpitchNJ Competition; then finished 2nd Place at the Statewide UpitchNJ Competition held at Seton Hall on April 26, 2019. Aersys' mission is to create a simple and robust network of infrastructure for automated delivery. Today, the company is building robotic parcel management solutions and micro-fulfillment centers that will see their first real-world tests in 2020. Learn more at Learn more about Team Aersys.